Announcements
GOD BLESS THE USA: July 4 at Eastminster Presbyterian Church, 106 N Riverside Dr, Indialantic, FL 32903, 7:30 - Concert
SUNTREE STARS & STRIPES: JULY 3 at Suntree United Methodist Church, 7400 N Wickham Rd, Melbourne, FL 32940, 6:30: Concert in Sanctuary
Salute Our Troops: Patrick AFB, 5:00 pm.
Memorial Day Festivities: Liberty Bell Museum, Monday, May 30th, 10:45 am - 12:30 pm.
Newsletter
Make sure you stay informed about upcoming concerts and program details. Click here to sign up for our Newsletter from Vertical Response and join the list of over 500 Brevard Residents who are staying connected with the MMB. The MMB never sells or shares any personal information about our Patrons.

Latest News
Melbourne Municipal Band Presents Audience and Band Requests at August Concert
A musical montage of "by request" tunes highlights the last of the Melbourne Municipal Band's (MMB) summer "Not-in-the-Park Picnic" concert series. The concert will be held on August 3 and 4 at 6:30 p.m. at the Melbourne Auditorium, 625 E. Hibis....readmore
Swingtime Plays to the Light of the Silvery June Moon
Dance music to while away a summer evening will be on tap as Swingtime presents its annual June Moon Ball on Friday, June 24, 2016, beginning at 7 p.m. at the Melbourne Auditorium, 625 Hibiscus Blvd. Dance tickets are $7 in advance at various outlets, or ....readmore
Symphonic Wind Ensemble to Present Special Father's Day Concert at Scott Center at Holy Trinity
Dads who enjoy music are in for a special Father's Day treat with a performance by the Symphonic Wind Ensemble (SWE) of the Melbourne Municipal Band. The SWE will present a midsummer's fest of beautiful tunes during a special concert at 3 p.m. on Sund....readmore

Swingtime Dance tickets are also available at our ticket outlets for $7 each. Ticket outlets: WMMB, Honor America, Marion Music, Brass & Reed Music Center, Guitar Haven, Viera Art Gallery.
You may also order your tickets HERE for $10.
---
Take our 5-minute survey!
Photo Gallery


Video Gallery
Meet the Musicians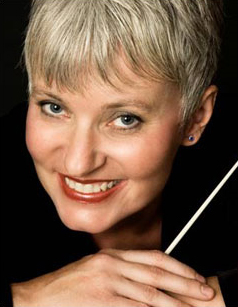 STACI CLEVELAND was named as the Conductor for the Melbourne Municipal Band in June of 2010. Cleveland graduated from the University of Florida with her Bachelor in Music Education in 1992, and with her Master of Music in Instrumental Conducting in 1994. She studied conducting with Dr...