Announcements
Eau Gallie Arts District (EGAD):The Adagio Sax Quartet will perform a concert of music from the Great American Songbook, Rags, and Classical repertoire at the Highland Ave Fellowship Church on Highland Ave. in Eau Gallie on April 6 at 7:00 pm. This concert is part of the First Friday Fellowship Concert series sponsored by the church. Come out to Eau Gallie Arts District (EGAD) First Friday activities and enjoy this wonderful concert. The concert is free. A free-will donation with be taken. The Adagio Sax Quartet is a small ensemble of the Melbourne Municipal Band, your community band since 1965.
St. Patrick's Day: MMB will liven up the annual St Patrick's Day parade in Downtown Melbourne on March 17 with traditional Irish tunes that will get you the Erin Go Bragh! spirit. Wear your most Irish attire and join the crowd in this fun-filled annual event. Remember, everyone is Irish on St Patrick's Day even the MMB musicians. Kiss me, I'm Irish!
Newsletter
Make sure you stay informed about upcoming concerts and program details. Click here to sign up for our Newsletter from Vertical Response and join the list of over 500 Brevard Residents who are staying connected with the MMB. The MMB never sells or shares any personal information about our Patrons.

Latest News
U.S. Army Field Band and Soldiers Chorus to Perform at Eau Gallie High School March 12
Free Admission – Advance Ticket Requests by Mail Only – The U.S. Army Field Band and Soldiers Chorus will appear in concert at 7:30 pm on Monday, March 12 at the Eau Gallie High School auditorium, 1400 Commodore Blvd. in Melbourne. ....readmore
Swingtime Plays the Hits of 1940s through 1970s
Swingtime will transports patrons to another musical era when it presents "Back in Time" concerts on March 7 and 8, 2018, at 7:30 p.m. at the Melbourne Auditorium, 625 Hibiscus Blvd. There is no charge for the concer....readmore
Swingtime's Spring Fling Dance Features Toe-Tapping Tunes
Swingtime has warmer weather in its sights as it presents its annual "Spring Fling Dance" on Friday, March 2, 2018, beginning at 7 p.m. at the Melbourne Auditorium, 625 Hibiscus Blvd. Dance tickets are $7 in advance at various outlets, or $10 at the d....readmore

Swingtime Dance tickets are also available at our ticket outlets for $7 each. Ticket outlets: WMMB, Honor America, Marion Music, Brass & Reed Music Center, Guitar Haven, Viera Art Gallery.
You may also order your tickets HERE for $10.
---
Photo Gallery

Video Gallery
Meet the Musicians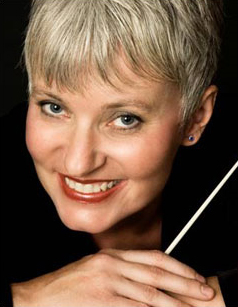 STACI CLEVELAND was named as the Conductor for the Melbourne Municipal Band in June of 2010. Cleveland graduated from the University of Florida with her Bachelor in Music Education in 1992, and with her Master of Music in Instrumental Conducting in 1994. She studied conducting with Dr...