Announcements
11th Summer Youth Music Program: The Melbourne Municipal Band (MMB) is holding its 11th Summer Youth Band Music Program from June 18th, 2018 thru July 12th, 2018. Click here for more information.
Liberty Bell Museum: Patriotic music from 11 am to 12 Noon on Monday, May 28th
Traveling Vietnam Wall: Sunday, April 15th - Sunday, April 22nd (2018). Location: Wickham Park Melbourne FL. Escort 4/15 from Eastern Florida State Collage Clearlake Rd Cocoa. KSU at 10am. The MMB will be playing Sunday, April 22nd at 5:00-6:00 PM at Wickham Park.
Eau Gallie Arts District (EGAD):The Adagio Sax Quartet will perform a concert of music from the Great American Songbook, Rags, and Classical repertoire at the Highland Ave Fellowship Church on Highland Ave. in Eau Gallie on April 6 at 7:00 pm. This concert is part of the First Friday Fellowship Concert series sponsored by the church. Come out to Eau Gallie Arts District (EGAD) First Friday activities and enjoy this wonderful concert. The concert is free. A free-will donation with be taken. The Adagio Sax Quartet is a small ensemble of the Melbourne Municipal Band, your community band since 1965.
Newsletter
Make sure you stay informed about upcoming concerts and program details. Click here to sign up for our Newsletter from Vertical Response and join the list of over 500 Brevard Residents who are staying connected with the MMB. The MMB never sells or shares any personal information about our Patrons.

Latest News
Swingtime Presents Annual June Moon Dance
Swingtime will celebrate the start of summer with its annual June Moon Dance on Friday, June 22, 2018, beginning at 7 p.m. at the Melbourne Auditorium, 625 Hibiscus Blvd. Dance tickets are $7 in advance at various outlets, or $10 at the door or online.....readmore
Melbourne Municipal Band Launches Summer Picnic Concert Series with "Encore!" on June 6 and 7
The Melbourne Municipal Band (MMB) will present "Encore," a concert of audience favorites, during the first of its three annual summer "Not-in-the-Park Picnic" concerts, June 6 and 7 at 6:30 p.m. at the Melbourne Auditorium, 625 E. Hibiscus Blvd. ....readmore
Registration Opens for MMB's Free Summer Music Program for Students in Grades 6 Through 12
The Melbourne Municipal Band (MMB) is holding its annual Summer Youth Band (SYB) Music Program from June 18 through July 12, 2018. Registration closes June 8. This is the 11th year of the program, which has grown to include nearly 100 students the past fe....readmore

Swingtime Dance tickets are also available at our ticket outlets for $7 each. Ticket outlets: WMMB, Honor America, Marion Music, Brass & Reed Music Center, Guitar Haven, Viera Art Gallery.
You may also order your tickets HERE for $10.
---
Photo Gallery




Video Gallery
Meet the Musicians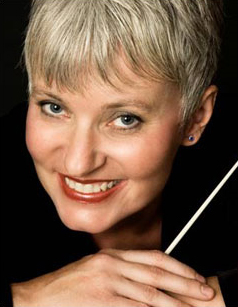 STACI CLEVELAND was named as the Conductor for the Melbourne Municipal Band in June of 2010. Cleveland graduated from the University of Florida with her Bachelor in Music Education in 1992, and with her Master of Music in Instrumental Conducting in 1994. She studied conducting with Dr...