Announcements
2017 New Year's Eve Gala: Tickets on sale now! Order online or download our brochure, fill out the form and mail it in with your check.
Veteran's Day Celebration: Saturday, Nov 11th at 4 PM, Patrick AFB (requires access to PAFB)
Veteran's Day Celebration: Thursday, Nov 9th at 11 AM, Vets Center on Croton and Sarno
Home of the Brave Concert: Holy Trinity Scott Center. Hear a brass fanfare, Space Coast Symphony Orchestra, Swingtime, Brevard Chorale, Indialantic Chamber Singers, Melbourne Community Orchestra and MMB on Sunday, Nov 5, 7:30 pm.
Cultural Arts Showcase: King Center Oct 29, Noon - 5pm. Join the MMB at the FREE one-day family festival of the performing and cultural arts held annually. Presented by the Brevard Symphony Orchestra and King Center for the Performing Arts, the festival includes arts activities, cultural demonstrations & LIVE performances throughout the day including the BSO's Annual Family Concert. Read more...
Newsletter
Make sure you stay informed about upcoming concerts and program details. Click here to sign up for our Newsletter from Vertical Response and join the list of over 500 Brevard Residents who are staying connected with the MMB. The MMB never sells or shares any personal information about our Patrons.

Latest News
Melbourne Municipal Band Presents "Jingle All the Way" Holiday Concert December 13 and 14
The Melbourne Municipal Band (MMB) will ring in the season with two holiday performances of "Jingle All the Way," with featured performers the Swingtimers Vocal Trio. The concerts, on December 13 and 14, begin at 7:30 p.m. at the Melbourne Auditorium,....readmore
Swingtime's Annual "Holiday Dance" Rings in the Season on December 1
Toe-tapping tunes and holiday classics will set the stage for the month's celebrations when Swingtime presents its popular Holiday Dance, beginning at 7 p.m. on Friday, December 1, at the Melbourne Auditorium, 625 E. Hibiscus Blvd. Dance tickets are $7 ....readmore
Swingtime's November Dance Salutes Veterans
Swingtime – the "Big Band" ensemble of the Melbourne Municipal Band – presents its annual "Salute to Veterans" dance on Thursday, November 16, from 7 to 10 p.m. at the Melbourne Auditorium, 625 E. Hibiscus Ave. Military personnel and veterans....readmore
New Years Eve Gala Dinner/Dance tickets are on sale HERE.

---

Swingtime Dance tickets are also available at our ticket outlets for $7 each.

Ticket Outlets: WMMB, Genesis House Boutique, Marion Music, Brass & Reed Music Center, Guitar Haven, Viera Art Gallery.
You may also order your tickets HERE for $10.
---
Photo Gallery


Video Gallery
Meet the Musicians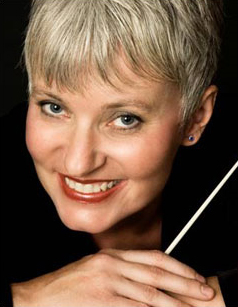 STACI ROSBURY-CLEVELAND was named as the Conductor for the Melbourne Municipal Band in June of 2010. Cleveland graduated from the University of Florida with her Bachelor in Music Education in 1992, and with her Master of Music in Instrumental Conducting in 1994. She studied conducting with Dr...