Announcements
Riverside Presbyterian Church: Big Band Greatest Hits, January 8, 3:30 and 7:00 p.m. We're taking the sounds of Swingtime beachside, with two concerts that showcase the best-loved music of the Big Band era. The event is part of the Vernon Boushell Concert Series at Riverside Presbyterian Church, 3400 N Atlantic Ave, Cocoa Beach, FL 32931. Tickets are free. Contact the church for further details: 321-783-6085 or www.riversidepres.org.
Melbourne Mall: The MMB will be playing a festive holiday concert at the Melbourne Mall in front of Macy's on Saturday, December 17th at 11am
Newsletter
Make sure you stay informed about upcoming concerts and program details. Click here to sign up for our Newsletter from Vertical Response and join the list of over 500 Brevard Residents who are staying connected with the MMB. The MMB never sells or shares any personal information about our Patrons.

Latest News
Swingtime's Annual "Sweetheart's Ball" Ushers in Valentine's Day Romance
The music of love will take center stage as Swingtime presents its annual Sweetheart's Ball dance on Friday, January 27, 2017, beginning at 7 p.m. at the Melbourne Auditorium, 625 Hibiscus Blvd. Dance tickets are $7 in advance at various outlets, or $10....readmore
Swingtime's January Concert Blends Smooth Jazz with Strings
Swingtime's January Concert Blends Smooth Jazz with Strings ....readmore
Swingtime Welcomes 2017 with New Year's Gala Dinner and Dance
Those who want to experience an elegant New Year's Eve celebration – dinner, dancing to the sounds a live Big Band and a midnight balloon drop – can do just that on December 31, when the 20-piece Swingtime band rings in 2017 with a gala New Year's....readmore

Swingtime Dance tickets are also available at our ticket outlets for $7 each. Ticket outlets: WMMB, Honor America, Marion Music, Brass & Reed Music Center, Guitar Haven, Viera Art Gallery.
You may also order your tickets HERE for $10.
---
Photo Gallery


Video Gallery
Meet the Musicians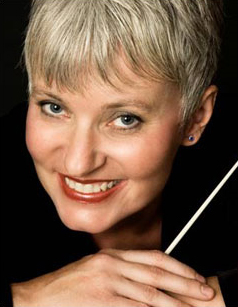 STACI CLEVELAND was named as the Conductor for the Melbourne Municipal Band in June of 2010. Cleveland graduated from the University of Florida with her Bachelor in Music Education in 1992, and with her Master of Music in Instrumental Conducting in 1994. She studied conducting with Dr...