Announcements
​Oh Golly Dixieland: Birthday Party at IRCC Friday, February 13th 6-7:30 PM
Total Wine & More - Thanks to Total Wine & More Viera, FL for their contribution to the Melbourne Municipal Band's fiftieth anniversary concert at the King Center!
Mathers Cake Shop in Eau Gallie on Highland Avenue is contributing delicious, hand-made pastries to the reception for our special anniversary-patrons who made it possible for us to be at the King Center February 22. Band fans, please bring your business to Mathers for a cake for your next special occasion!
Community Foundation for Brevard - Many thanks to the Community Foundation for Brevard for their grant to enable our 50th Anniversary concert at the King Center. We are honored to be included among the organizations that that the Community Fund for Brevard supports to make live music available to our community!
Newsletter
Make sure you stay informed about upcoming concerts and program details. Click here to sign up for our Newsletter from Vertical Response and join the list of over 500 Brevard Residents who are staying connected with the MMB. The MMB never sells or shares any personal information about our Patrons.

Latest News
Melbourne Municipal Band's February 18 and 19 Concerts Remind Us "How Suite It Is"
Musical suites take center stage at the Melbourne Municipal Band's (MMB) concerts on February 18 and 19, beginning at 7:30 p.m. at the Melbourne Auditorium, 625 E. Hibiscus Blvd. There is no charge and tickets are not required.....readmore
Swinging with Swingtime on February 4-5
If it`s February, it means two nights of finger-snapping jazz with the Melbourne Community Orchestra and the Swingtime Jazz Band. The 2015 annual collaboration entitled, Swinging With Swingtime, gets underway at 7:30 PM on Wednesday and Thursday evenings,....readmore
Swingtime "Sweetheart's Ball" Brings the Toe-Tapping Sounds of Jazz Greats on January 30, 2015
MELBOURNE, FL – Sweethearts of all ages are invited to take the dance floor on Friday, January 30, 2015, when Swingtime presents its very popular, annual "Sweetheart's Ball" beginning at 7 p.m. at the Melbourne Auditorium, 625 Hibiscus Blvd. Dance....readmore
Swingtime Dance tickets are available at our ticket outlets for $7 each. Ticket outlets: WMMB, Honor America, Marion Music, Brass & Reed Music Center, Guitar Haven, Viera Art Gallery.
You may also order your tickets HERE for $10.

Click for a chance to win the original Derek Gores' collage, Scrapbook Medley; other items for sale.
Photo Gallery


Video Gallery
Meet the Musicians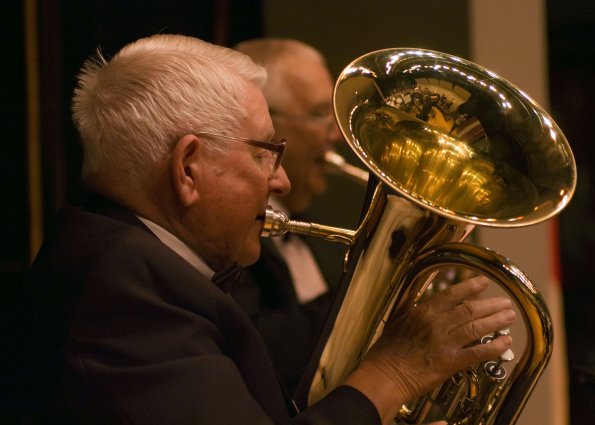 RON McTAGGART a charter member of the Melbourne Municipal Band, has always had music as an important part of his life. Some of his earliest memories are of singing choruses and hymns around the house as well as in church. He started playing trumpet at the age of ten, but after joining the Melbourne High School Band in 1946, soon discovered his love and affinity for the baritone...